Because human capital is our priority, Laurentian Bank provides a complete range of training tools and programs. The goal? To help our employees fulfill their duties, learn new skills and develop their talents.
Join a team that allows you to grow.
---
Development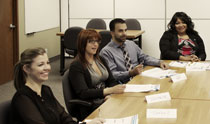 Laurentian Bank Academy and its integration programs: sharing a common corporate culture.
This year, the Academy is celebrating its fifth anniversary. This innovative concept was created to improve the skills of Laurentian Bank employees.
The Academy helps new employees integrate into their workplace. To do so, it provides them with the knowledge and tools they need to carry out their professional duties and more easily adapt to the Bank's culture.
Different programs have been developed based on the position held. Their duration can range from two weeks to six months depending on the role the employee is expected to play within the organization. In addition to classroom training, several of these programs include an apprenticeship period with a mentor.
Employee development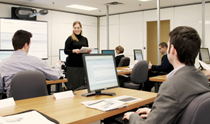 Distance learning: Laurentian Bank Academy online.
The Academy offers numerous online training modules for employees who wish to upgrade their skills and technical knowledge of the Bank's products and services.
This year, more than 4,000 employees have taken advantage of this training and viewed modules on topics such as money laundering and our sales approach with clients.
Career development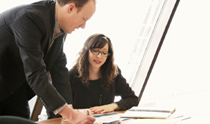 Succession management program: developing our talent.
Our succession management program is designed to recruit and train future managers. Using a workplace training approach, the program provides valuable instruction to employees, allowing them to fill various jobs within our branch network with the ultimate goal of acquiring the qualifications for a management position.