Customer Notice
As per the public health authority's guidelines, wearing a mask or face covering is now mandatory for all customers and employees at branches, points of service and ABMs.
Latest updates
November 02, 2020

Canada Recovery Benefit (CRB) [+]
November 02, 2020

End of the Canada Emergency Response Benefit (CERB) [+]
October 28, 2020

CEBA – Deadline Extension and Changes to Eligibility Criteria [+]
October 01, 2020

Personal Banking - End of our relief measures [+]
September 02, 2020

CEBA Application Deadline Extension [+]
Our teams are here to help you
Like you, we've been closely monitoring this unique global health crisis. We are committed to being there for you, both remotely and at a branch, however the situation unfolds. Our team is ready to do whatever it takes to support you.
True to our mission to help our customers improve their financial health, our team of professionals is there to guide and assist you in understanding everything that is happening and help you plan for a better financial future.
We're here to advise you
Invest, borrow or cash in? It's understandable to have questions about your investments or your financing products right now. It's also the perfect time to take stock of your financial health. Talk to an advisor to create or update your budget and discuss your financial strategy. Take advantage of personalized advice tailored to your situation so you can make informed decisions.
Consult our FAQs on personal finances and read the LBC News article on budget planning.
Financial measures to help you
Our commitment to support you financially
Laurentian Bank Financial Group (LBCFG) is committed to supporting its personal and business customers during the COVID-19 pandemic. Since everyone's situation is unique, we will work to find solutions on a case-by-case basis.
Relief measures for personal customers [+]
Relief measures for business customers [+]
Need additional credit?
Please talk to your advisor, account manager or contact us at 1-800-252-1846. We'll evaluate which solutions are tailored to your situation.
You have questions, we're here for you.
Consult our FAQ's.
For your financial services
Call us to talk it over
Personal Customers
Our teams are here and ready to help and advise you with your financial needs during regular business hours (phone appointments only). Banking transactions, financial services and advisory services can be completed by phone.
Use our branch locator tool to find out branch business hours and the phone number to reach your advisor.
Find out more about the initiatives
we've put in place to guide and advise you remotely.
Business Customers
Our teams are here and ready to help you and advise you with your financial needs during normal business hours (phone appointments only). We have implemented several measures to facilitate your remote transactions.
If you do business with a branch:
Use our branch locator tool to find out branch business hours and the phone number to reach your advisor.
If you are doing business with an Account Manager at a business centre:
Reduced business hours remain in effect across our entire network
Please note that our reduced business hours will remain in effect until further notice. Reduce hours are from 10 a.m. to 2 p.m., Monday to Friday, and apply across our entire network.
Our advisors remain available by phone, upon advisory services branch hours, to assist you with your transactions, finances or investments.
To protect the health and safety of our employees and clients, we have increased our hygiene measures and implemented additional preventive measures at our points of service.
Use our electronic services 24/7
To ensure everyone's safety, we strongly encourage you to do your banking transactions from the comfort of your own home using the following solutions:
LBCDirect electronic services, available online or by phone
Our Telebanking Centre can be reached by dialing 1-800-252-1846 every day, from 8 a.m. to 8 p.m.
You can conduct most of your transactions through Laurentian Bank and THE EXCHANGE®
ABMs networks.
Due to the exceptional situation we're experiencing right now, the wait time to talk to an agent may be longer than usual. We appreciate your patience.
Hygiene and prevention measures
Your health and safety is our priority
To protect our customers and employees from COVID-19 and following the public health authority's guidelines, we have implemented preventive measures at our branches, points of service and ABM areas: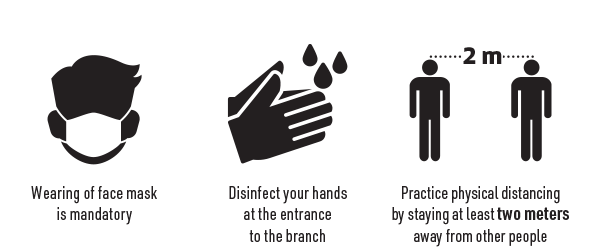 For everyone's safety, we have also put these specific hygiene measures in place:
Added alcohol-based antiseptic gel and disinfecting wipes
Installed plexiglass
Installed two-metre indicators on the floor to ensure social distancing
Increased cleaning frequency, especially in commons paces: counters, doors, ABMs, etc.
Access to our branches and points of service is prohibited for anyone who has recently travelled, who has been in close contact with someone who has travelled or is exhibiting symptoms, who is experiencing symptoms themselves or who is refusing to wear a mask or face covering. Please conduct your banking transactions remotely, either online via LBCDirect, by phone or by contacting your advisor.
Your savings are protected
During this time of uncertainty, you don't have to worry about the safety of your deposits. With the Canada Deposit Insurance Corporation (CDIC) protection, your deposits with us are automatically covered for up to $100,000, as well as terms greater than 5 years. Discover how.
How to protect yourself from scams arising from COVID-19
During this pandemic, there are scammers looking to take advantage of the situation. Beware of fraudulent emails trying to trick you into revealing your personal information or clicking on links or attachments containing malware.
Here how to spot a scam to avoid becoming a victim:
https://bit.ly/2Qyig4O.
If you believe you have been a victim of fraud or phishing, please contact our Fraud Prevention Centre (514-284-7570 or 1-800-263-8980).
Also learn how to avoid the latest scams arising from government benefits
With government measures in place, including the Canadian Emergency Response Benefit (ECP), scammers are taking advantage of the situation by sending fake text messages or emails on behalf of the Canada Revenue Agency or a financial institution. The recipient is asked to click on a link to receive government assistance. Please be aware that official institutions will NEVER use this means to notify you that they will be depositing a benefit or that you must click on a link to receive it.
FAQ's
Find all the answers to your questions here