My 100% Advice bank •
April 26, 2021
modified on April 27, 2021
Financial Fraud Against Seniors
Its various forms and how to protect yourself.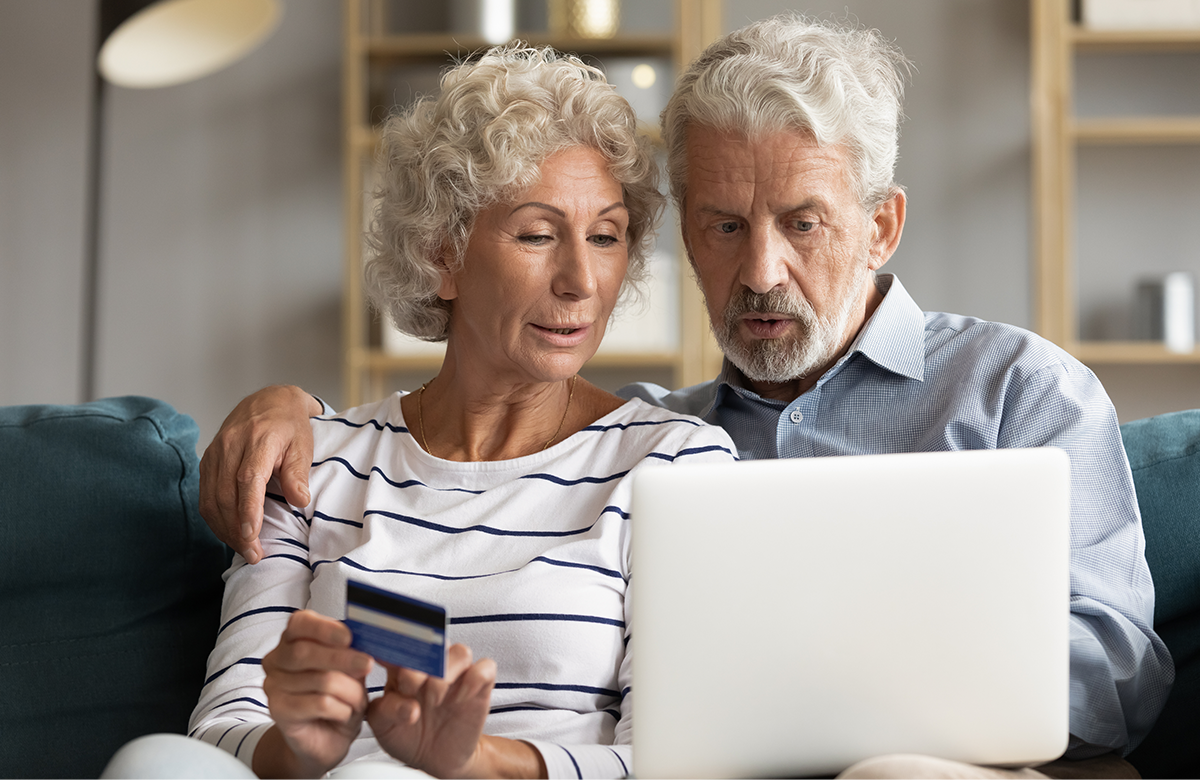 Financial fraud is a serious and growing problem, especially among seniors. But why these people in particular? Seniors are a potential target for fraudsters because of the wealth they have accumulated throughout their lives, their vulnerability and isolation, as well as the fact that they are more inclined to give their trust.
What is financial fraud?
It's a dishonest and illegal method of cheating a person for financial gain and to steal their money. Financial fraud against seniors can take many forms. Here are some examples:
Phishing

: fake emails or text messages that look like real ones sent by legitimate companies or organizations, whose purpose is to extract personal information, such as a Social Insurance Number (SIN) or credit card numbers. These types of emails or text messages could announce a lottery win, a tax refund, or even a hacked bank account.

Telephone solicitation

: a call from a real person or an automated message from a fraudster soliciting the victim to complete a transaction remotely with a fake prize, such as a trip or a car.

Credit or debit card fraud

: the use of your credit or debit card number by a fraudster to make unauthorized withdrawals or purchases.

Affinity fraud

: a fraudster targets a group of people, such as a seniors' residence or a religious or ethnic community to build a relationship with its members. One of the ways the fraudster does this is by promising the victims a quick payoff by investing their savings in investments that will provide very high returns. Unfortunately, the seniors may trust the fraudster, because they know and trust that person.

"Relative in distress" fraud

: the fraudster poses as a relative and may even assume the identity of one of the senior's acquaintances in order to request money. The fraudster will create a sense of urgency by claiming to be in a difficult situation, so that the victim will send money quickly. This can be done through a text message or social network. Remember that some social networks give access to member information, such as their photos, first and last names, city, and even interests, which makes things easier for fraudsters.
Some tips to avoid financial fraud
Anyone can be a victim of financial fraud; the important thing is to remain vigilant and report any fraud or attempted fraud immediately. If you have ever been a victim of financial fraud, don't hesitate to share your experience with your family, friends, and neighbours, so that they don't fall victim to the same situation.
Code of Conduct for the Delivery of Banking Services to Seniors
Laurentian Bank of Canada has adopted the
Code of Conduct for the Delivery of Banking Services to Seniors
, introduced in July 2019. As part of this Code, we have designated a Seniors' Champion, who is responsible for overseeing the Code's implementation, as well as promoting and raising awareness of matters affecting seniors. We have also implemented a number of measures to help protect seniors from financial abuse, fraud and scams.
Learn more about our senior banking services
.
+ Legal Notices
These links lead to websites external to Laurentian Bank of Canada and its affiliates (

LBCFG

), and LBCFG cannot guarantee the accuracy of the information contained therein nor can it be held responsible for any damages resulting from the consultation of these external websites.
The articles on this website are for information purposes only. They do not create any legal or contractual obligation for Laurentian Bank and its subsidiaries.
These articles do not constitute financial, accounting, legal or tax-related advice and should not be used for such purposes. Laurentian Bank and its subsidiaries may not be held liable for any damage you may incur as part of such use. Please contact your advisor or any other independent professionals, who will advise you as needed.
The articles may contain hyperlinks leading to external sites that are not managed by LBC. LBC cannot be held liable for the content of such external sites or the damage that may result from their use.
Prior written consent from the Laurentian Bank of Canada is required for any reproduction, retransmission, publication or other use, in whole or in part, of the contents of this site.