Variable-Rate Mortgage

Take action now!
Make an appointment
1-844-494-0076
Homebuyers looking to make the least possible payments or save on interest, search no more! The Laurentian Bank offers a variable-rate mortgage based on the lowest available market rate.
In a nutshell...

It's a solution you can't afford to ignore! You get the most competitive rate on the market… and you can also benefit from the fixed or variable payment option.
Variable payments
Variable payments ensure you make the smallest possible payments based on the fluctuating prime rate.
Why choose a variable rate mortgage?

The graph below illustrates the advantage: the black line represents the prime rate. As you can see, the rate generally appears under the rate corresponding to the 5-year fixed rate (dotted line).
VARIATION OF PRIME RATE VERSUS 5-YEARS FIXED RATE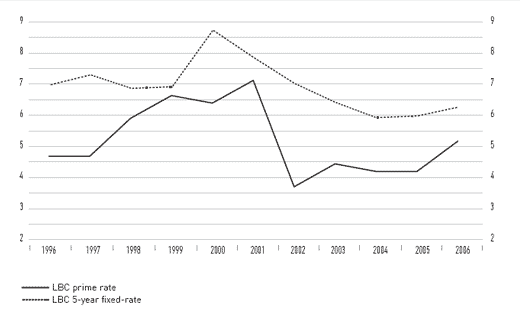 CHARACTERISTICS1
Offer
Based on the Laurentian Bank's prime rate, 3 and 5-year term
Rate fluctuates with the Laurentian Bank's prime rate during the term
Terms
3 or 5 years closed
Payments
Variable amounts
Convertible
Yes, at all times, towards a fixed-rate closed term equal to or greater than the
term balance.
Prepayment option
Prepayment opportunity is directly applied to the capital, which in turn
diminishes global costs.

Additional payments2
Opportunity to repay up to 15% of the original loan amount, once a year.

Payment frequency
Monthly, month-end, biweekly or weekly payments.
Have you ever thought about taking out mortgage insurance?
Protect your loved ones from life's uncertainties.


Summary

This mortgage product is for you if:
You're a financially-secure experienced homebuyer or first-time buyer with a flexible budget;
You're very comfortable with rate fluctuations;
You prefer to make small payments based on the lowest market rate (if you choose the variable payment option);
You want to repay your mortgage quickly (if you choose the fixed payment option).
This mortgage product is not for you if:
Your budget is more or less flexible;
You're not comfortable with interest rate fluctuations.
Legal notice

1 Subject to credit approval. Certain conditions apply.
2 This privilege applies to each mortgage loan (facility) separately. Note that if your mortgage is divided into facilities (more than one loan), it is not possible to apply the privilege of one loan (facility) to another.