My tools •
December 16, 2019
modified on December 01, 2020
How to make and keep to your New Year's resolutions
A few tips to help you out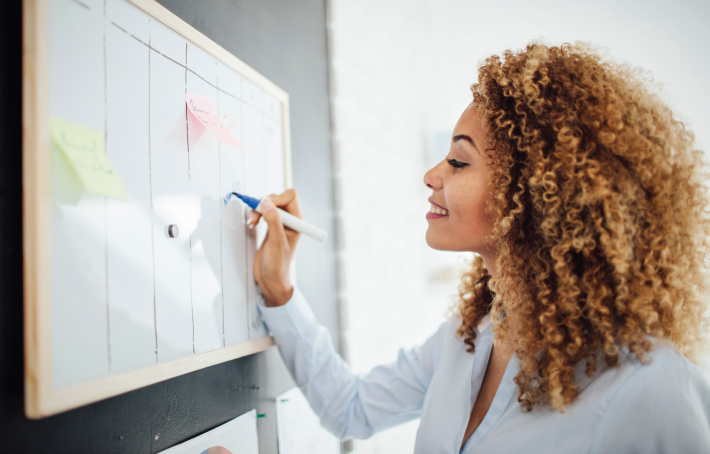 If you often make resolutions in January and abandon them during the year or if you've decided to start that tradition this year, here's some advice to help you reach your goals:
Be realistic: Running a full marathon in the next six months if you've never even jogged before may not be the most feasible objective. Instead, set gradual goals, such as a 5 km or 10 km marathon.
Write your goals down: Writing them down gives them more weight. As the saying goes: "Spoken words fly away, but written words stay." This will enable you to check your list regularly and note your progress.
Choose a few over many: Filling a page or two with goals will surely demoralize you. After all, how could you reach that many objectives? Where do you even start? First, prioritize your resolutions and trim your list down to just a few. It will then be much easier for you to keep them.
A tool for each resolution
You should have a tool or two for each of your resolutions. For example, if you want to get more exercise or lose weight, smart watches, fitness apps, workout classes and gyms can be great motivators.
If your goal is financial, such as taking stock of your personal finances, budgeting or saving more, consider talking to your advisor. He will be able to help you assess your financial health and build a plan based on your goals. Laurentian Bank also offers many tools to help you save all year long, such as our Periodic Savings and Investment Plan, Retirement projection, savings simulator or investment selector.
Thanks to these tips, you'll be ready to keep all your resolutions in 2020!
+ Legal Notices
New investment accounts are offered by LBC Financial Services Inc. (LBCFS). Mutual funds are distributed by LBCFS. The Financial Planning service is offered by LBCFS. LBCFS is a wholly-owned subsidiary of Laurentian Bank and a legal entity distinct from Laurentian Bank and Mackenzie Investments. Mutual funds offered by LBCFS are part of the Laurentian Bank Group of Funds managed by Mackenzie Investments. A Laurentian Bank advisor is also a licensed LBCFS Mutual Fund Representative.
The articles on this website are for information purposes only. They do not create any legal or contractual obligation for Laurentian Bank and its subsidiaries.
These articles do not constitute financial, accounting, legal or tax-related advice and should not be used for such purposes. Laurentian Bank and its subsidiaries may not be held liable for any damage you may incur as part of such use. Please contact your advisor or any other independent professionals, who will advise you as needed.
The articles may contain hyperlinks leading to external sites that are not managed by LBC. LBC cannot be held liable for the content of such external sites or the damage that may result from their use.
Prior written consent from the Laurentian Bank of Canada is required for any reproduction, retransmission, publication or other use, in whole or in part, of the contents of this site.