Planning for retirement
Planning for retirement is more important than ever. Yet, many Quebecers simply aren't planning well enough to secure the income they need to sustain their lifestyle and make for a comfortable retirement.
To fully enjoy your retirement, it's important to plan it as early as possible with the right strategy that aligns with your priorities, future projects and current savings capacity.
To feel financially secure and confident
To focus on your priorities and achieve your long-term financial goals
To achieve financial independence and a successful retirement
Some important numbers
8 million Canadians will be over 65 by 2026, representing 20% of the total population.
The number of people reaching age 100 has increased by 36% since 2015.
The average age of retirement is 63.
The average life expectancy is 87-89 years. This means that many people can expect to spend 25+ years in retirement.
Source: Mackenzie Investments
The sooner the better!
In fact, the sooner you plan your retirement, the more likely it will be to meet your expectations. However, even if you're only a few years away from retirement,
you can still benefit from taking stock of your situation and determining the likelihood of meeting your future retirement objectives
. You still have some wiggle room, and it can make a difference. Therefore, it's always wise to establish a retirement plan, no matter how old you are!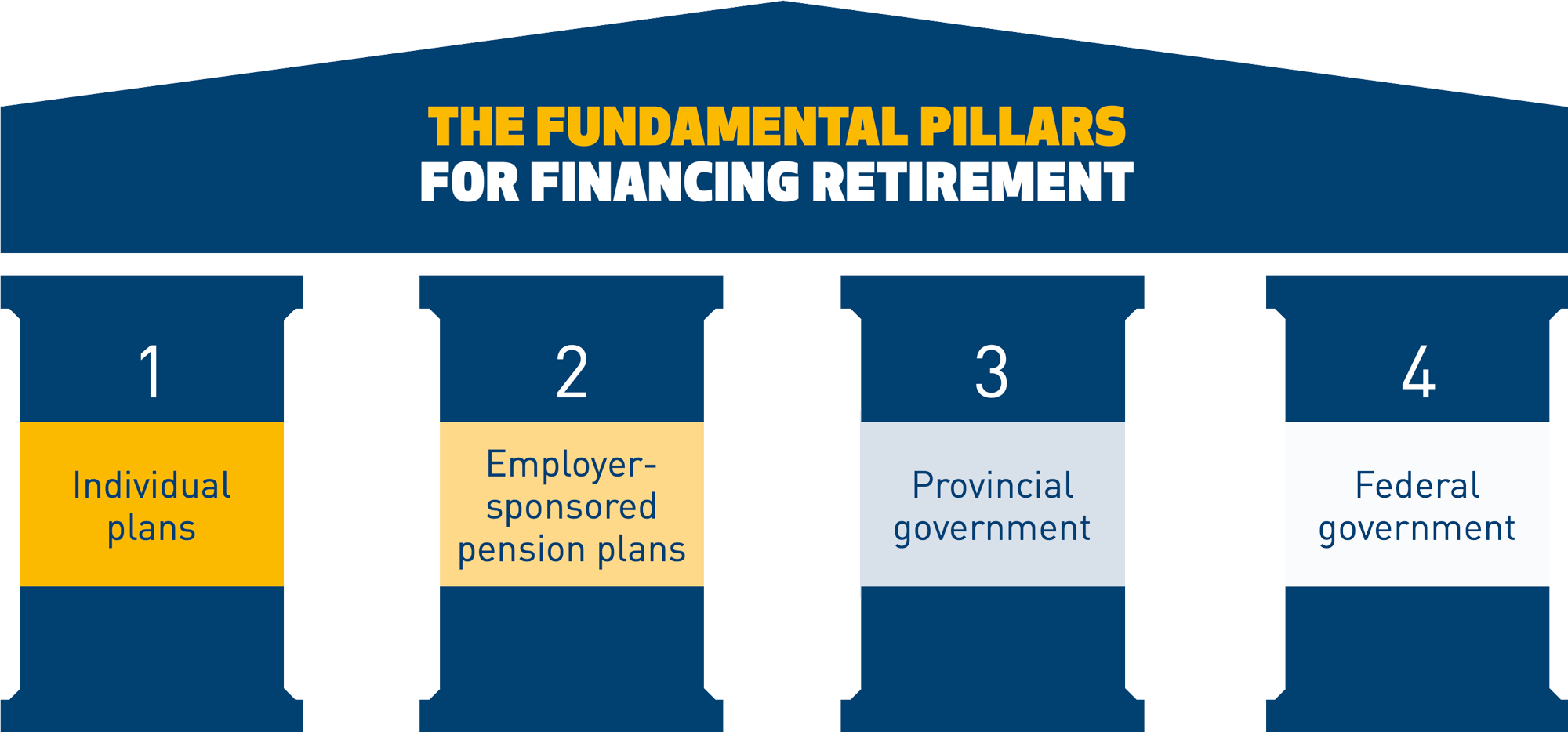 Your advisor will help you establish
a personalized plan
based on your situation by:
Identifying your sources of retirement income and financial objectives with you
Performing the necessary calculations to determine if your current savings are sufficient
Suggesting the most appropriate savings vehicles for your situation and risk tolerance
Discussing with you how you would like to retire to better prepare you mentally and financially
Remember to bring key documents to prepare an accurate custom report.
Whether you're married or in a relationship,
it's important to discuss your retirement as a couple to ensure that your lifestyle, needs, priorities and goals are compatible
. Planning for retirement with each other's needs in mind is the best strategy to ensure that you both have the same vision for the future.
Retirement and transitioning to it are as unique as each of us
. Increasingly, people are not stopping work overnight, but rather opting for semi-retirement, becoming consultants or reducing their work hours so that they can focus more on their hobbies or undertake small projects. While needs are different in retirement, the disbursement strategy is as important as the investment strategy and must take into account two important elements:
inflation and the tax impact of your various sources of income in retirement
.
A disbursement plan established with your advisor has several benefits and allows you to maximize your income, reduce your tax liability and ensure a gradual transition of your growth investment portfolio to generate a stable income.
Over how many years should you plan to withdraw money from your RRSP? When is the best time to convert your RRSP to a RRIF? Should you delay the Quebec Pension Plan and the Old Age Security pension? How about consolidating your assets in the same financial institution?
These are just a few of the questions that will be answered as part of your disbursement strategy.
Remember to review your disbursement plan annually, especially if your situation changes.