Planning for retirement
A whole new life awaits you after retirement! This new chapter may last over 20 years; therefore, it's important to plan it carefully to ensure it meets your expectations.
The earlier you plan, the more prepared you'll be to enjoy the kind of retirement you've always dreamed about.
To approach this new stage of your life with confidence and enthusiasm
To ensure you can pursue the retirement lifestyle of your dreams
To focus on your priorities and achieve your long-term financial goals
Some key figures
The average retirement age is 63.
The average life expectancy is between 87 and 89, which means many people can expect to spend 25 years or more in retirement.
Since 2015, the number of people who have reached the age of 100 has increased by 36%.
Source: Mackenzie Investments
Retirement can represent a long and beautiful new life. Be prepared to fully enjoy it without having to make any compromises!
The sooner the better! The earlier you plan, the more prepared you'll be to take full advantage of this whole new second life.
However, even if you're only a few years away from retirement, you can still benefit from taking stock of your situation and determining the likelihood of reaching your retirement goals. You still have some wiggle room, which might make all the difference. This is why it's always wise to establish a retirement plan, no matter how old you are!
Whether you're married or in a relationship, it's important to discuss your retirement with your partner to ensure that your visions of the future, desired lifestyle, needs, and priorities are compatible. Planning for retirement with each other's needs in mind is the best strategy for ensuring that your future life together is a happy one.
Every person is unique. To help you establish your
a personalized plan
, your advisor will:
Discuss your plans for a dream retirement and how you are planning to make the transition.
Help you define your financial objectives in preparation for this new stage of life.
Identify your sources of retirement income.
Calculate the amount you'll need to save to reach your objectives.
Suggest the most appropriate savings vehicles for your situation.
To ensure your personalized plan is properly prepared, remember to bring these important documents with you to the meeting.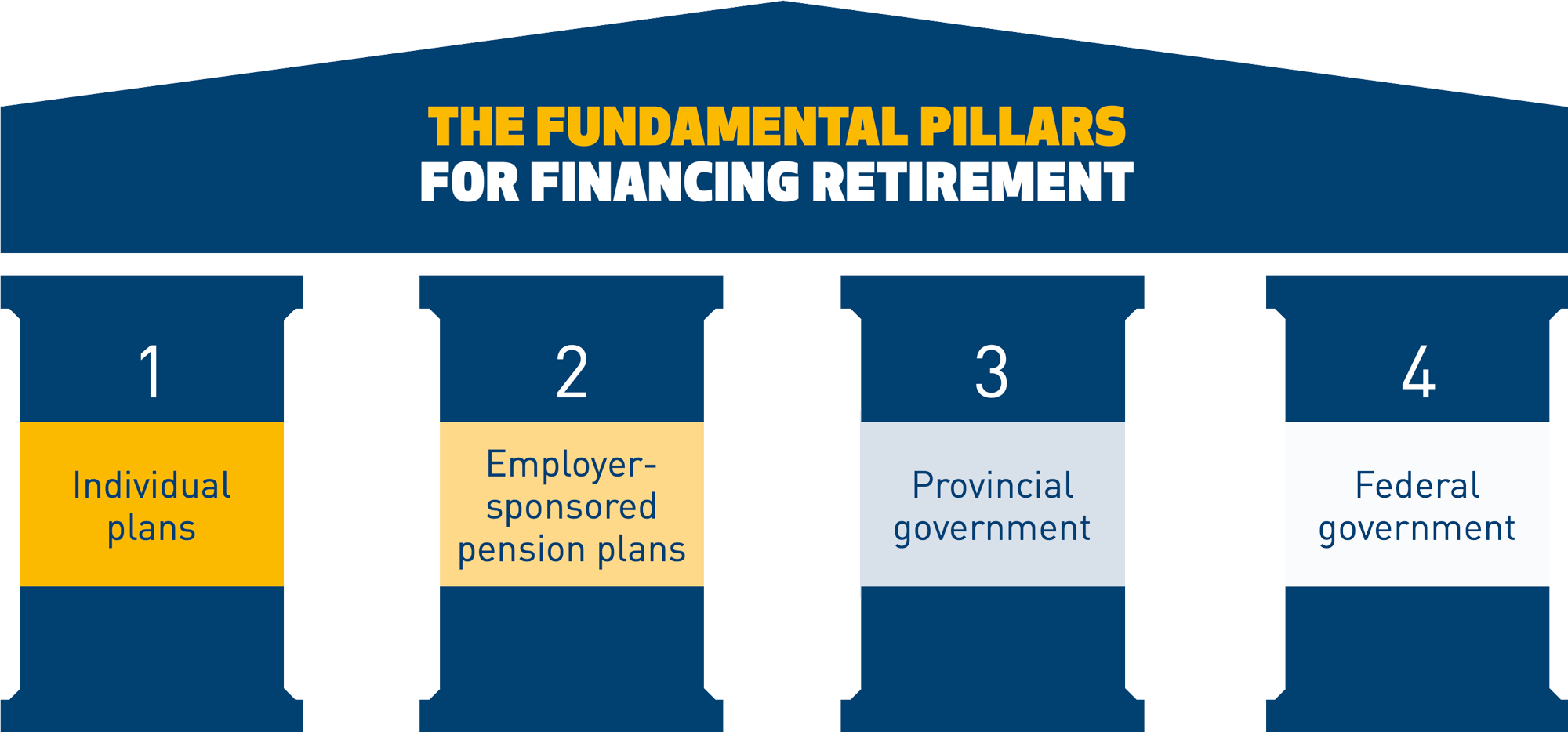 There are many ways to prepare for retirement and your transition. Increasingly, instead of stopping work completely, people are choosing a period of semi-retirement, becoming consultants, or even reducing their work hours so that they can focus more on their hobbies or take on small projects.
Your withdrawal strategy, or how to make the most of your savings once retired, is as important as your investment strategy and needs to be established in consultation with your advisor.
The goal of a withdrawal plan is to organize in advance your withdrawal of funds in the most advantageous way so you can maximally benefit from your accumulated savings. This will ensure you have an income that meets your needs throughout the length of your retirement.
Here are a few examples of questions you'll address when preparing your withdrawal strategy.
When should you start withdrawals from your RRSP? At what pace?
When is the best time to convert your RRSP to an RRIF?
Should you hold off on receiving the Quebec Pension Plan and Old Age Security pension?
What are the advantages of consolidating your assets with the Laurentian Bank?
Your situation may change before the time arrives for your retirement. However, this plan is not definitive, and we recommend you revise it regularly with your advisor to ensure it is always in sync with your goals.