Debit Card
The Laurentian Bank debit card is a simple and secure way to access your accounts and settle your purchases.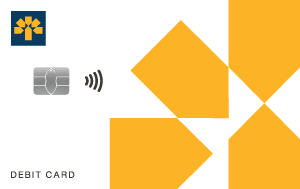 Shopping has never been
this quick and easy.
Tap and go with the
Interac

Flash® debit card.

Make contactless payments on the go without having to enter your PIN. With your debit card, you can simply tap and go at any Canadian merchant with an Interac FlashMD terminal.
Easy to use
Fast
Practical
Safe
Use your card at any Laurentian Bank automated teller machine, THE EXCHANGE® Network or Interac® terminal. You can also use it at any PLUS® network terminal worldwide.
When you use your
Interac
Flash
®
debit card at a merchant for the first time, you must enter your PIN. After that, you can use the contactless functionality to shop.
For more information, you can consult the Questions and Answers document.
Safety tips:

Choose a four-digit PIN if you travel abroad frequently, or a five-digit PIN for maximum safety.
Choose a PIN that's easy to remember but difficult to guess.
Memorize your PIN. Never jot it down on paper or keep it close to your debit card.
Never lend your card or disclose your PIN.
Mask the keypad when entering your PIN.
Make a habit of checking your account statements or transaction history online. Contact us if you find a discrepancy.
Promptly report a lost or stolen debit card. In such a situation, contact Client Services at 1-877-522-3863, available 24/7, to cancel your card.




THE EXCHANGE® Network is a registered trademark of Fiserv, Inc., licensed for use in Canada by FICANEX Services Limited Partnership.

Interac e-Transfer and Interac Flash are trademarks of Interac Inc. Used under licence.

Legal notice
* Some ATM operators and merchants may charge for the use of the terminal. These fees are not Laurentian Bank service fees.